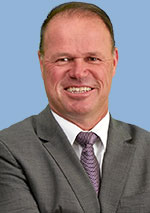 For nearly 25 years I've worked within the Lumber, Building Materials and Hardware industry, including senior roles on both sides of the negotiating table. The past 12 years, as President of Castle, have given me insight and a keen understanding of the relationship between manufacturing, distribution, and the independent retailer in serving the needs of Canadians from coast to coast.
Here's what I've learned:
We live in one of the greatest countries in the world
If you're not passionate about what you do, you're in the wrong business.
It's cool to be an entrepreneur
Entrepreneurs are the backbone of our economy
People will always be your greatest asset
Relationship are integral to business success
The independent Lumber & Building Materials and hardware (LBM) dealer will continue to dominate the home improvement industry
Superior service is the differentiator to your success
Over the next 10 to 15 years independent dealers will become the largest consolidator of other independent dealers.
Embracing communication and technology platforms are key to your future success
Consumers are smarter, better informed, more savvy than at any other time in history
The Box stores have peaked, and they've made the independent better, stronger.
Manufacturing is centralizing, and not necessarily in Canada
The trade barriers that separate the U.S. & Canada are disappearing
We will see more consolidation taking place in Canada, in every sector of the economy
Here's what I know;
The Independent dealer is the backbone of the industry.
This industry has some of the greatest people and minds in the country.
I like "Business Simplicity" (largely driven by my own intellectual shortcomings).
What are the future challenges?
That's an interesting question. One I hope we have a chance to discuss as I share my thoughts over the coming months.